Mobile and BYOD
Planning for, and facilitating mobile print solutions using your existing print infrastructure is made easier with PaperCut's Mobile and "Bring Your Own Device" (BYOD) features.

With the lack of consistent standardization in the changing mobile device market, no single solution is able to provide print management and control for the entire array of devices available. Instead there are a number of solutions suited to catering for different mobile device platforms. As PaperCut has evolved, features such as Web Print, iOS printing, Google Cloud Print and Email to Print have been developed to provide flexible BYOD print management that minimizes the need to alter network infrastructure.
Consolidated BYOD Print Management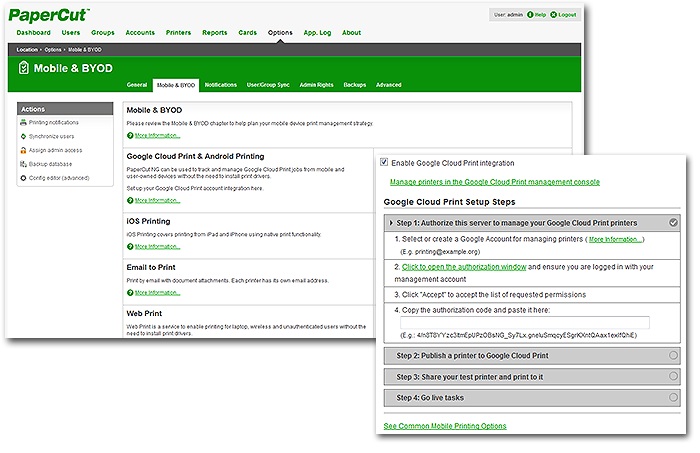 The "Mobile & BYOD" configuration options made available with the latest release of PaperCut consolidates and centralizes each of these solutions all in one place.
With comprehensive yet easy-to-follow instructions, setting up and executing your plan for your network's mobile device print strategy has never been easier!
Whether you need to track and control printing from iPads, iPhones or other iOS devices using PaperCut's iOS Printing or need to set up a general management solution for all devices using PaperCut's Email to Print or Web Print, you may tailor PaperCut's Mobile & BYOD configuration to suit your network's needs.
Platforms supported by PaperCut
PaperCut's Mobile and BYOD solutions provide print tracking and control for the following platforms:

Android Phones, Tablets and devices runnning ChromeOS
PaperCut's
Google Cloud Print integration (GCP)
streamlines the GCP setup without the need to purchase new "Cloud Ready" print devices. PaperCut automates the publishing your network's printers and enforces print policies and quotas for all popular Android and ChromeOS devices.

Windows 8 Phones, Surface Tablets and RT devices
Usually Windows devices are able to print and use Windows server-based print queues however a simpler approach using
PaperCut's Web Print
delivers a solution with less overhead where there is no need to install print drivers or to manage server-based authentication. Users are authenticated by PaperCut's end user web interface and gain access to their usual print facilities.

Email To Print - a complete cross-platform BYOD solution
If a device can send an email with a PDF, Microsoft Office Word, Excel or PowerPoint attachments, then it can be covered in your print management strategy using
PaperCut's Email to Print feature
, regardless of platform, make or model simply by sending the print to an assigned email address. Email to Print can also be used in conjunction with other PaperCut features such as
Find Me Printing
and
Secure Print Release
for cost-effective performance from your network's print infrastructure.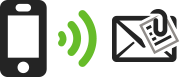 Develop your Mobile and BYOD strategy
Are you looking to offer managed support for the widest range of BYOD devices connecting to your network?
Are you looking to balance your users' needs against implementing and deploying multiple technologies?
See the Mobile Printing chapter of the PaperCut Manual for more information regarding understanding your users and the tools PaperCut can provide you for developing your Mobile and BYOD strategy.