Secure Print Release and Find-Me Printing
In a standard printing environment, a user's jobs are sent directly to the printer for immediate printing. This results in wasted paper and toner when printing is forgotten and not collected. It also presents a security risk if those forgotten jobs were sensitive or confidential. PaperCut print release provides a simple solution that places jobs in a holding state until the user authenticates and releases the job at the printer. Users may select individual jobs to release or have jobs automatically print after successful authentication. PaperCut print release offers:
Secure printing - sensitive jobs will not sit uncollected on the printer. Jobs only print when released by the user.
Find-Me Printing / pull printing - provides a roaming print solution where users print to a single queue and jobs will be "pulled" to any printer where they authenticate. Also known as Follow Me Printing.
Reduced wastage - no more uncollected jobs. No wasted paper or toner.
PaperCut print release is a cost-effective and universal solution available for any printing device. Print release is offered through 3 means ...
1. Embedded Copier Software
PaperCut embedded software provides print release integrating directly with Multi-function printer (MFP) devices. This provides a seamless user experience as users login to the MFP using the LCD touchscreen or security card readers. Embedded solution is cost effective as no expensive 3rd party terminal hardware is required. Embedded software is available for the major MFP brands including: Ricoh, HP, Toshiba, Konica-Minolta, Xerox, Lexmark, and Sharp (with more on the way). In addition to print release, these solutions also track and control copying, scanning and faxing. For devices that do not support an embedded software platform, similar features are available through third party hardware terminal devices connected to the MFPs.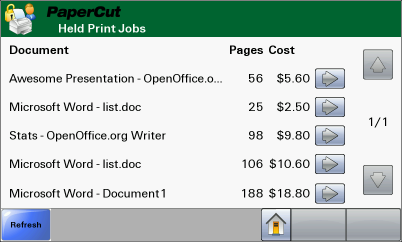 2. Fast Release Card Reader
The Fast Release TCP/IP Network Convertor is a cost-effective print release solution that leverages commodity of off-the-shelf USB card readers available from multiple manufacturers. The Fast Release Card Readers are connected to the network (not the printer) allowing them to be used with any printer on the market, and the desired USB card reader is attached to the Fast Release Card Reader. It's an ideal solution for printers that do not support embedded applications. The Fast Release solution works as follows:
The user prints to hold/release queue or a global virtual print queue, where jobs are held awaiting release.
The user walks up to the printer and presents their identity card to the USB card reader attached to the Fast Release Terminal.
Compatible USB Keyboards and PIN Pads can be used to enable user authentication via user ID number.
PaperCut validates the user's credentials and releases their jobs to the adjacent printer.
The Fast Release TCP/IP Network Convertor enables USB card readers which support a large range of authentication card types, including Mifare, HID, HID iClass, Legic and more.

3. Software Release Stations
PaperCut also offers a software based release station that can be installed on any low-end PC or workstation. It provides a full print release solution (including support for card authentication and Find-Me printing). Software release stations are an effective solution for print rooms. It is a particularly cost-effective solution when spare or unused workstation hardware is used.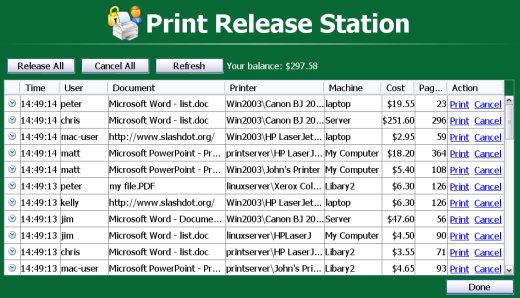 Much More Than Just Print Release ...
Print release is just one of many features to control, track and audit printer and copier usage....