PaperCut NG has two types of accounts - personal accounts and shared accounts. Each user has a personal account. This is the default account charged under normal operation. In some organizations and businesses it may be useful to provide users (or selected users) with the option to charge printing to a shared account. Some uses of shared accounts include: In business:
Allocate and budget printing by business areas (e.g. cost center)
Track printing by project, phase, client or account
Track printing by client/matter - popular in legal and accounting firms
In a school or university:
Budget staff use via shared faculty or department accounts
Provide shared accounts for classes or subjects
Track printing costs by subject area
Allocating to Shared Accounts
Printing is allocated to shared accounts via a customizable popup window that is displayed after sending a print job. Two types of popup window are available:
Standard - A simple window design ideal for most users.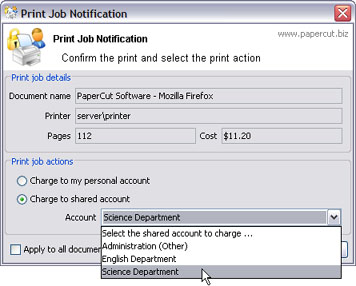 Advanced - An advanced window designed for the power user including features such as search, preference list, recent selections, comment entry and invoicing options. This is ideal for businesses including engineering, legal, accounting and architecture firms.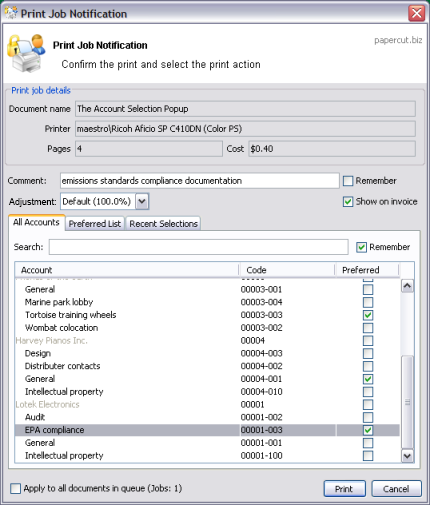 Shared Account Access Control
Access to accounts is controlled via integrated network group membership or optionally PINs. Additionally,
Choose which users can charge to shared accounts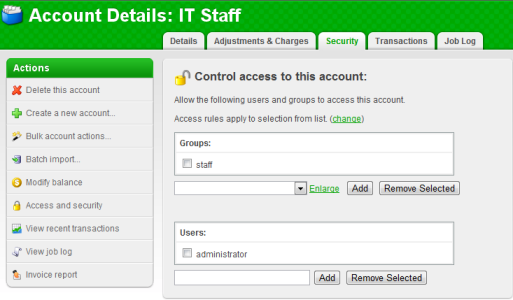 Select "confirmation mode" allowing users to confirm their print via a popup
Control access to shared accounts via PIN's or network security groups