Give users the choice and freedom to print from whatever device is at their disposal. Mobility Print simplifies the printing process from bring your own devices (BYOD) and mobile devices. By following a few simple steps, users can quickly discover, and print to any of your printers, without assistance from a techie. This means SysAdmins get more time "playing with infrastructure" rather than dealing with frustrated end users. Mobility Print is a core feature of PaperCut NG and PaperCut MF. We don't charge extra for this feature, nor require you to sign up to a cloud service. It's all locally hosted and in your control/network
Making life easy for end users
Allows users to set up printing themselves without the need to contact a SysAdmin! Mobility Print provides a native print experience for all operating platforms and devices, consistent with how you would make or model of the printer. And discovering printers is super simple, as there is no need to know the IP address of the printer or download brand specific apps, this just works.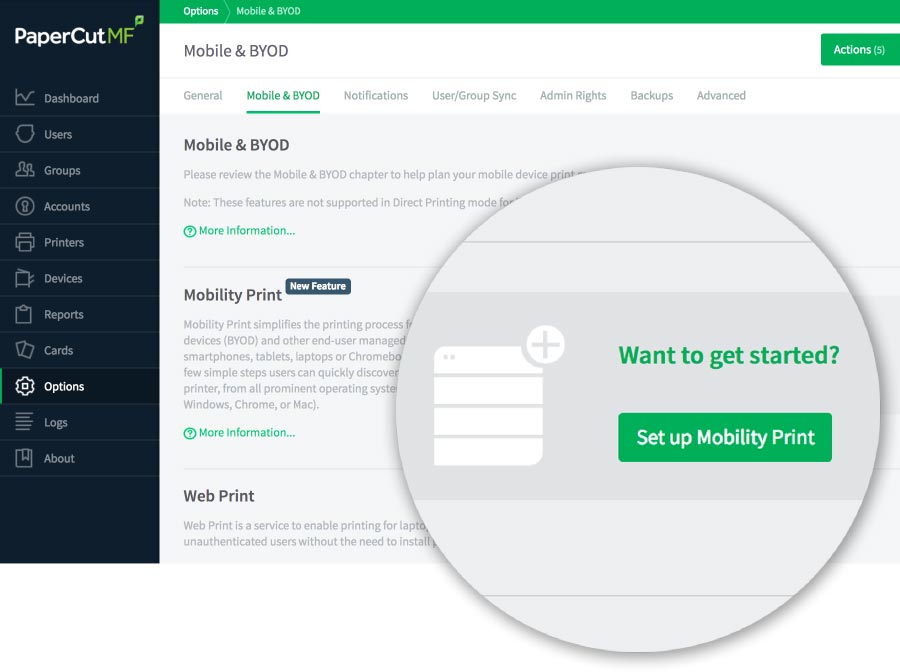 Easy for SysAdmins to set up and maintain
Setting up Mobility Print is super easy, with most installations requiring only a few clicks to get up and running. As new printers are automatically published, there is very little to do once set up is complete. It is designed to work reliably across networks of all types and sizes, scaling from small single subnet offices or small business, all the way to the most complex enterprise network serving tens of thousands of users. And most importantly, no more support calls!
Offer greater convenience
As IT has shifted from managed desktops over to BYOD (user-managed systems) and mobile devices, a whole new set of complexity has appeared. Wasn't technology meant to make our lives "simpler"? With the use of Mobility Print, users will be able to print with freedom and save valuable time by not having to wait to transfer files or fire up a computer in order to print. Users will no longer be limited to printing from work issued computers or shared computers in the library. As long as they are connected to the wireless network, they will be able to print their personal laptop, smartphone or tablet.
The BYOD printing challenge
Something we have found over the years is that solving printing from mobile devices is not the whole challenge. Even on our customers' busiest sites, Smart phone printing makes up only 4%. The challenge is supporting the content creation devices such as BYOD laptops. These challenges exist in all organizations ranging from small business up to large enterprises. In particular, trends such as 1-to-1 laptop programs (1:1) in schools and colleges have added to the complexity.
Mobility Print for Educational Institutes
We've worked with printing in education now for two decades. Student printing is a challenge. Consider this situation: A student who wants to quickly print a document at their university, currently doesn't have a simple way to do it. If they were to print from a Samsung phone, they would have to download a printer app for Android, which needs to be specific to the brand of printer they are printing to, which they may or may not know. To print from a notebook, they may use PaperCut's Email to Print, which involves them emailing an attachment. Student printing should be simpler! Whether they want to print from an iPhone, print from a Samsung tablet, print from the residential hall or print from a classroom, the solution should be the same, and the experience as easy as Files -> Print. Hey presto, that's Mobility Print!
Mobility Print for Commercial Organizations
Our journey in enterprise printing has radically evolved over the last decade. We've seen printing change from "easy", to "difficult" again. Consider this situation: Your wife takes her laptop to her work, because they are encouraging BYOD. To print to a work printer, she needs to involve the SysAdmin or IT guys and get them to set up her machine to allow printing across the network and that's assuming they are nice enough and willing to help! Or she will be sent complex instructions about joining the Wi-Fi, then a the domain, searching for and configuring the printer... it is all too hard. Well the IT department's dream of getting everyone printing from the personal devices is possible. That's Mobility Print. And as a bonus, it also helps with guest printing and visitor printing.
Device requirements
Mobility Print supports:
Chrome OS with Chrome version 43+ (supported devices include Chromebooks from Acer, Asus, HP, Lenovo, and Toshiba)
Android 4.4+ (supported devices include Android phones and tablets from Google, Samsung, HTC, Lenovo, LG, Sony, Huawei among others)
iOS 9.2+ (supported devices include iPhones, iPad, MacBook, MacBook Pro, or just a Mac)
Microsoft Windows 7+
macOS Yosemite+ | 10.10
Resources
To learn more about Mobility Print check out the
Mobility Print Manual
or to set up Mobility Print with PaperCut NG, head to the
PaperCut Manual
. To learn more about PaperCut's mobile and BYOD printing alternatives, check out
Chapter 21, Mobile & BYOD Printing
in the manual.
Tip: Mobility Print can help when looking to implement a private enterprise cloud print strategy.