While the majority of organizations implementing PaperCut don't take payments (such as those implementing silent monitoring or simple print quotas), many organizations implement payment policies such as:
User Pays After Quota Exceeded

After the user exceeds their allocated quota, they must credit their account with their own funds.

User Pays Up-Front

All users start with zero account balance. Access to printers is only granted after users credit their account with their own funds.
PaperCut provides a wide range of options for managing and accepting user payments. These range from simple manual processes where a user's balance is updated by office staff when they make a payment, to fully automated credit card payment systems. The following chart provides a guide for the level of cost and complexity associated with each payment option.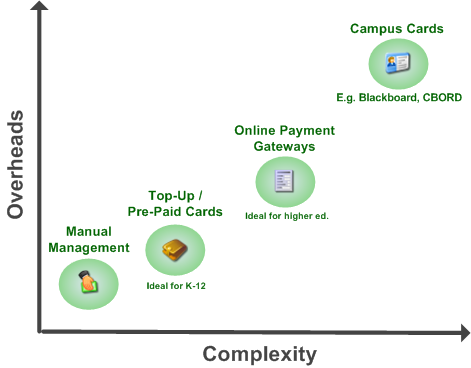 Manual Payments
Suitable for:
K-12, colleges, universities. Office or counter staff taking manual payments can quickly update accounts in real-time via the simple PaperCut web based interface called the Web Cashier. It can also be used to charge users for ad hoc items. All transactions are logged and audited and the interface is so simple to use that staff training is usually not necessary.
More information about manual payments...
Top-Up / Pre-Paid Payment Cards
Suitable for:
K-12, colleges, universities. Top-up cards/vouchers are a simple, cheap, effective and popular payment method. Top-up cards allow you to implement a voucher or coupon based system, similar in concept to the cards used pre-paid cell/mobile phone providers and online music stores. PaperCut includes the tools to help you create, manage and print your own disposable payment cards. The majority of high school sites use top-up cards along with reasonable print quotas.
More information about top-up cards...
Online Payment Gateways
Suitable for:
colleges, universities. Leveraging the emerging trend of online payments, the PaperCut payment gateway add-on modules allow PaperCut to hook directly into leading payment providers such as PayPal, Authorize.Net, RBS WorldPay and CyberSource. The solution allows users to make immediate payments from credit cards and bank accounts directly from their desktop. Parents can also make payments on behalf of their school children via the internet. PaperCut's solution is vendor neutral ensuring you have a choice of payment providers.
More information about online payment gateways...
Campus Cards & Cashless Payment Systems
Suitable for:
large colleges and universities with existing campus card systems. Campus card systems are popular among larger universities and colleges, where student cards may function as identification as well as payment for various campus services such as food, parking and book shops. PaperCut integrates with several leading campus card systems, providing the opportunity to allow students to pay for printing using their campus card. Popular systems include Blackboard, CBORD and in-house cashless systems.
More information about campus cards...
Open APIs
Suitable for:
colleges and universities with in-house development staff and specific requirements. PaperCut has an open and fully documented API. This allows 3rd party organizations and integrators to interface with PaperCut to support other payment methods. This could include transfers from other systems and/or payment via hardware devices. Information about PaperCut's XML-RPC web services API can be found in the
user manual
(e.g. the
adjustUserAccountBalance
call). For more information about the APIs please contact PaperCut .
Cash Payment Hardware Options
Suitable for: large colleges, universities and libraries wanting unattended pay-per-print environments. PaperCut may also be integrated with cash payment accepting hardware. These units range from wall mounted coin/bill acceptors through to kiosk systems providing multiple services to users. Because hardware integration is a complex topic hardware solutions are sold in a separate edition of PaperCut. PaperCut MF is our hardware focused solution sold and supported by Authorized Solution Centers and resellers throughout the world. PaperCut MF Authorized Solutions Centers are experts in both hardware and software and can work with sites to architect and select an appropriate solution.