Web Print is PaperCut's unique and industry leading solution to manage the growing need for printing from laptops, wireless devices and anonymous users. As a core feature of PaperCut, Web Print enables printing from user-owned devices without the overhead of installing printer drivers and managing server authentication. PaperCut's Web Print has been deployed across hundreds of education campuses and is an ideal solution for offering print services via student owned laptops and netbooks. PaperCut can also track wireless printing from the iPad and iPhone (iOS devices). See the
tour page on tracking iPad printing
for details.
1. Selecting a printer
The user first selects the printer they would like to print their job to. PaperCut will automatically generate a list of printers that are available, or alternatively the list may be overlayed with a map, floor plan or site plan.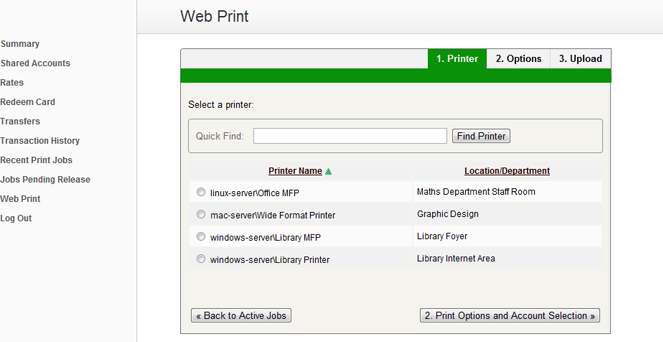 2. Choosing print options
Next the user selects print options.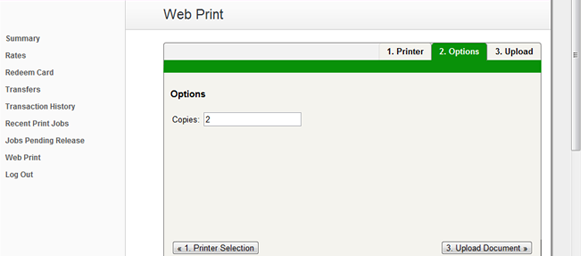 3. Uploading the document
The user selects and uploads the file they would like printed. The upload may be done over a secure SSL connection. That's it - no client software, drivers or special configuration required! Choose from Microsoft files, PDFs and common picture file formats including jpg, tig, gif and png.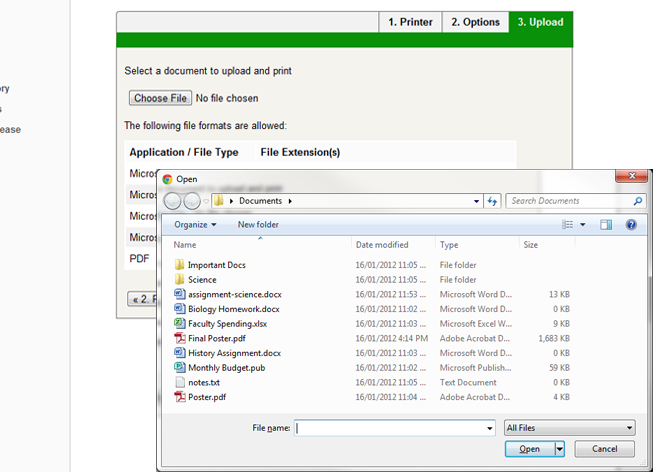 4. Following job progress
The user may watch the progress of their job to see when it has started printing. All activity is logged, charged and accounted for in PaperCut just as if they had printed via a standard printer share.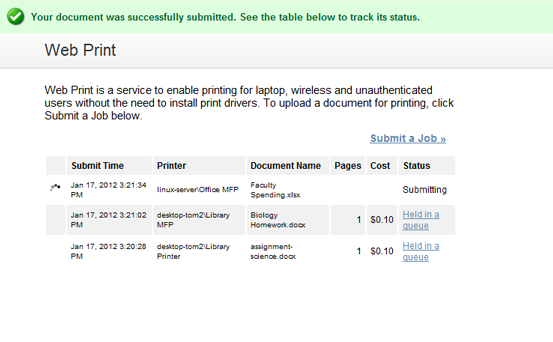 And More...
Secure
- Job rendering is done using native applications on the server-side. We all know that MS Word and Adobe PDF views have security "issues" from time to time. In addition to your regular software patching, PaperCut helps alleviate your concerns by supporting sandboxing and virtualization. The native applications may be hosted in a Virtual Machine sandboxed from the rest of the server and network.
Shared Accounts
- The administrator may also allow access to
shared account
charging features, equivalent to the options available to desktop users with the PaperCut
client tool
.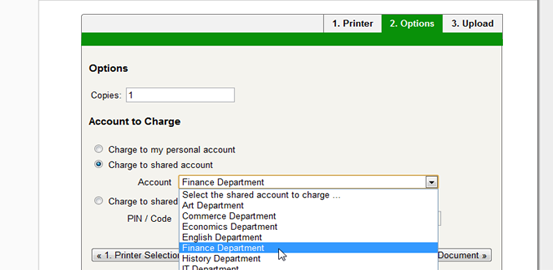 Standard - Web Print is a core feature of PaperCut and included as standard. We don't charge extra for this module, nor require you to sign up to a cloud service. It's all locally hosted and in your control/domain/network. Maps - Maps and plans can easily be created with free tools in standard formats such as HTML or SVG, or exported from applications such as Microsoft Office Visio.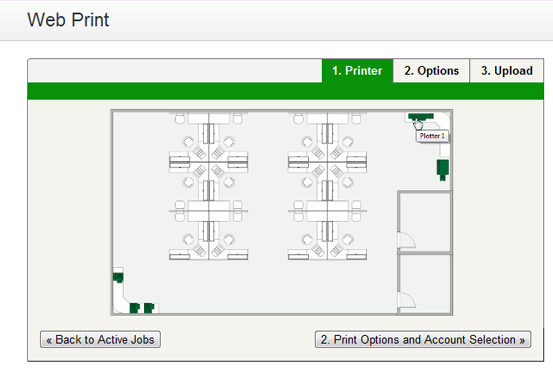 Integration - Unlike solutions like PrinterOnTM, Web Print is fully integrated into PaperCut's standard print charging/accounting/quota process. It does not matter if you're a staff user allocating to a faculty or department account, or a student charging to your free print quota, the user account allocation experience the same as that seen when printing from a networked desktop system.