Good print management is more than replacing toner cartridges. Be proactive! Use PaperCut to monitor printing, encourage sensible use and find pain points. Here are a few highlights of PaperCut's best print management features:
Implement best-practice print policy rules:
Remind users via popup to print duplex
Route large jobs to dedicated high-volume printers
Discourage users from printing emails
Discourage printing web pages in color
PaperCut's print policy mangement is powered by
advanced scripting
and can be quickly tailored to meet organization printing requirements.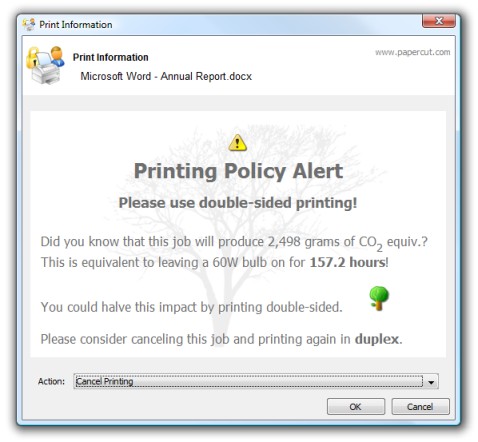 Be proactive! Ensure that administrators are kept abreast of any printing issues via automatic emails/sms alerts. Alerts may be sent when:
A printer is in error (e.g. a paper jam that the user was unable to clear)
A printer's toner level is low
Other errors/conditions occur in the printing process
Define costs on a per-printer basis
Full differential charging models taking into account standard sizes, size category, area, color/grayscale or duplex mode
Combine with filters for precise control over charges and use
Apply discounts to encourage use of grayscale and duplex printing
Page-level color detection - users are only charged the color rate on pages that actually contain color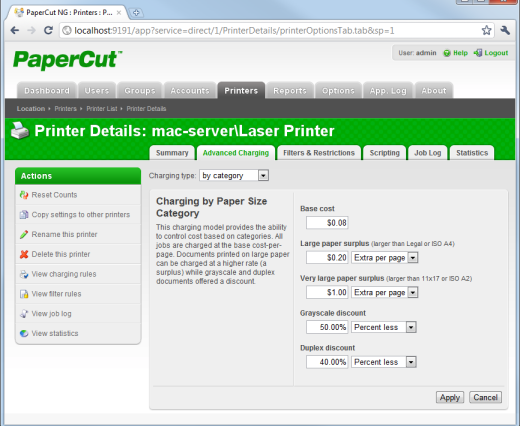 Filter / Restrict Print Jobs
Filters are a great way to control printing. They can be used to convert or restrict print jobs. Some examples of print filter usage by administrators include:
Automatically convert student printing to duplex or grayscale.
Automatically detect and delete duplicate jobs.
Prevent large jobs from being printed on slow printers.
Stop jobs of certain names/types. A great way to stop someone accidentally printing the "accounts.xls" file that results in 20,000 pages!
Catch invalid paper sizes. No more "manual feed" or "Load A5" blinking messages!
Restrict access by domain group, maximum cost, color mode, size and more.
Filters are backed up by customizable messages. These can be used to inform users of why restrictions are in place. For example,
"This job has been denied. Please don't print jobs over 100 pages on the ink jet printer. Use laser printer X instead."
For advanced usage, filters may be combined with
print scripts
. This provides functionality like automatically converting printed emails to grayscale (i.e. do a conversion based on the application type).
More...
Also improve your print management with:
Solve wireless laptop printing issues with driverless Web Print
Track printing expensives via department, work area, cost center, client.