Allocating accounts to print jobs at the device
All print jobs must be allocated to an account before they can be released (printed). This account can be either:
a user's personal account, or

a shared accountA shared account is an account that is shared by multiple users. For example, in business, shared accounts can be used to track printing costs by business unit, project, or client. Organizations like legal firms, engineering firms, or accounting offices often have long lists of accounts, projects, clients, or matters. In a school or university, shared accounts can be used to track printing by departments, classes, or subjects. for cost center, faculty, or client billing purposes.
The account can be either automatically assigned, or selected by a user at the User Client and/or at the device.
For PaperCut NG/MF, the simplest method is for users to allocate an account directly at the device. It doesn't matter if users are printing in the Mobility Print environment from a mobile device (such as a smart phone or a tablet) or from a computer; the experience is streamlined. It also eliminates the need for an additional tool like the User Client.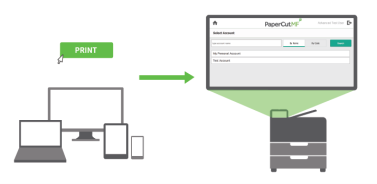 IMPORTANT
If you have one of the following configurations, your users must use the User Client for printing from a computer (or the Mobile web client when printing from a mobile device):
Devices that do not support allocating accounts (see PaperCut MF System requirements - print release assign accounts).

users who have permission to release jobs printed by other users, or charge a job to another user (for example, delegated authority).

unauthenticated printing.

users who need to do more than just allocating accounts, for example, cost adjustments (available only in the User Client).

overrides and print scripts that affect cost allocation, such as the printJobAfterAccountSelectionHook, Print Scripting with Mobility Print, etc (available only in the User Client).
At the device, the Print Release screen indicates which jobs do not have an account and require an account to be allocated: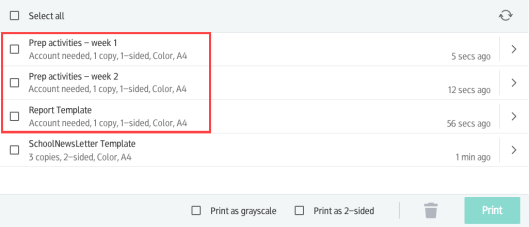 Users can:
allocate the same account to multiple held print jobs without an account, and/or
allocate an account to a single held print job without an account or change a previously allocated account.
For more information, see: